Your Choice for Sprinkler Repair Services in Chandler AZ

We understand that irrigation needs are paramount to achieving the beautiful lawns that our customers desire. For this reason, we make sure that our services are delivered by trained technicians in a timely fashion. By keeping your budget in mind, affordable landscaping can now be achieved by enlisting us to improve every aspect of your current system or desired design. For the convenience and satisfaction of our customers, we offer the following services:

Consultation - A quick response to your needs or problem
System Repairs - No matter what type of system you have, we can handle the repair
Pop-up and Rotor Replacement
Leaks and Backflow Testing
Resolving Wiring Problems
System Alterations
Adjustments for Trees, Pools, and Additions
Upgrading to a Water Conservation System
Scheduled Maintenance
Controller Replacements
---
We Offer so Much More than Sprinkler Repair in Chandler, AZ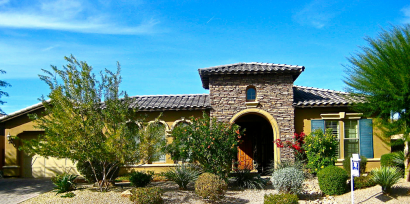 We also offer minor landscaping services to accommodate your irrigation system, so we are truly a one-stop professional resource for your sprinkler system needs. Our company is fully equipped to handle minor masonry issues that may arise during new design or emergencies. We are excited to be the leader of Chandler, Arizona's sprinkler sysems industry, and want to share our expertise with you, our customer. Call us today, and let us show you how to drastically improve the appearance of your lawn.

In addition to all services offered, we feel a great responsibility to educate our future customers as well as existing clients in water conservation and how they can use our products to do their part in saving the environment. With water bills at an all-time high, we can show you how to not only save money using your existing equipment, but how beneficial it may be to upgrade to a more efficient system. There is new technology available within the irrigation industry that can greatly reduce the waste of our natural resources, and by calling us we can make you aware of these advances. Scheduling a consultation with our Chandler AZ Sprinkler systems specialists may be your first step in going green!